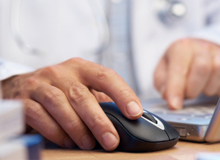 Healthcare Services
MacMillan Interactive Communications, LLC (MIC) is a seasoned expert in developing and manging cutting edge hospital websites, custom healthcare software and service line marketing solutions. We offer hospitals, nursing homes and healthcare organizations innovative web-based health content tools, software, web design, management, web redesign, consulting and marketing services.
Hospital Web Design, Professional Site Management and Service Line Marketing
We offer hospitals and healthcare organizations providers web-based health content tools, software, web design, management, web redesign, consulting and marketing services.
Our founder, Richard MacMillan has worked for more than 20 years to effectively promote and manage numerous hospital websites and service lines. He founded the company in 1995 after managing marketing and communications for a group of Los Angeles hospitals for many years. Today our team uses his well tested knowledge to design, maintain and promote hospital sites and service lines.
We deeply understand the needs of hospital marketing departments. Please read our white paper entitled "The Functions of a Hospital Marketing Department" to learn more about our understanding of the unique needs of hospital marketing.
Also see our article entitled "Five Reasons to Automate Your Hospital's Social Media and Web Marketing Strategy" to uncover an extremely effective method for promoting your hospital.
MIC offers hospital the following services:
Professional hospital website development and management
Hospital custom software development
Hospital Intranet development
Hospital service line marketing and social media management
Hospital media relations strategy and copy writing services
Custom Healthcare Software Development
Over the past 20 years we have been privileged to engineer and maintain unique and effective custom healthcare software solutions. Here a just a few of the innovated systems we have developed and maintained.
COVR Nursing Home Labor Management Software
This software is used by hundreds of nursing homes nation-wide including LifeCare Centers of America, Providence Group and Anthem to schedule and manage labor. We designed and built this system to schedule employees, control overtime and optimize labor costs. This software includes web-based administration and mobile app access for both our customers and their employees.
Corcoran College E-Learning Software
The Corcoran Consulting Group contracted us to build a complete e-learning system that allows medical professionals to receive continuing education credits by successfully completing online courses. The software features an array of courses, which contain multiple learning modules. Students must interact with all the learning materials in each module and then complete the module by taking a test. After all the modules of the course are complete, a student is then awarded their continuing education credits by the system.
Good Shepherd Quality Management Software
Good Shepherd Health System asked us to create a Quality Improvement tool which they could use to manage, track and successfully process quality enhancement projects in their organization. The hospital is now able to use this custom healthcare software tool to manage their improvement requests they receive, mve the request into a project management system,
Go to top of page